Futuristic
design on the
horizon
ARIYA is the stunning expression of Nissan's new vision. A single horizon line replaces fussy contours. Thin LED headlights shine at night, then disappear during the day. The final touch? A new illuminated badge to light the way forward.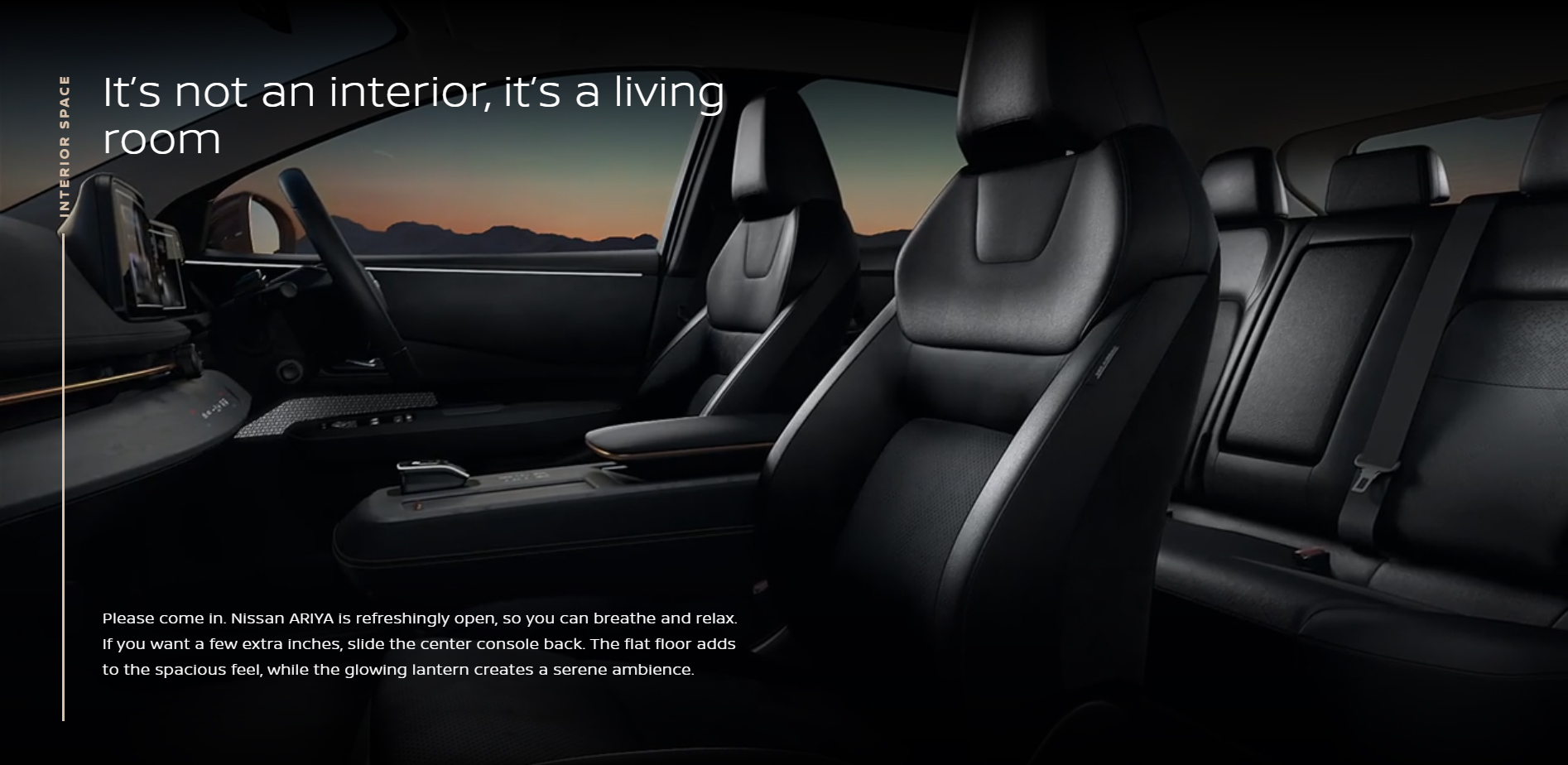 Drive your way
Feel more at ease. Driver assist technologies give you different levels of control. Highway traffic? Get a helping hand. Tight space? Let Ariya take over.*
The right Ariya for you
Find the perfect fit. The choice between two batteries and three drivetrains — including e-4ORCE all-wheel drive — offers you a tailored experience.
Interact with a new world
Large dual displays and controls with haptic feedback are just the beginning.
Want your favorite apps in front of you? Swipe. Want to hear your playlist? Just ask.
Register your interest
Find out more about the Ariya when the information become available.
Images and descriptions shown are for guidance purposes. In some instances photos are of UK and non-UK specification vehicles and do not represent a specific model, grade or offer. The features shown may not be available or may not be available as standard or only as option.
*Pre-production model shown. Actual production model may vary.
**ProPILOT is an Advanced Driver Assistance technology but cannot prevent collisions. ProPILOT is intended for "Eyes on/ Hands On" for motorways only (road separated by Barriers). It is the driver's responsibility to stay alert, drive safely and be able to take control of the vehicle at any time. For terms and conditions relating to Nissan technologies, please click here.
*** Figures relating to WLTP and 87 kWh Battery
**** Nissan Irelands Privacy Policy can be viewed here
*****Figures quoted are for 63kWh (ARIYA) and 87kWh (ARIYA E-4ORCE) batteries. Time dependent on charging conditions, including charger type and condition, battery temperature as well as ambient temperature at point of use. Indicated rapid charging time requires use of a CHAdeMO rapid charger. The Nissan ARIYA is designed to support the majority of journeys in daily life and is equipped with charging safeguards to protect the battery during repeated rapid charging sessions in a short period of time. The time taken for successive rapid charging can take longer if the battery temperature activates the battery safeguarding technology.